Summer Music Camps
VIBES Summer Camps start June 10th-August 23rd. 25% of the total camp tuition is charged at the time of registration and is non-refundable. The remaining 75% of the camp tuition will be charged on June 1st. There are no refunds or credits after June 1st. Note that ongoing lessons and classes are billed monthly.
Register before May 1st, 2019 and receive an additional 5% early bird discount. Standard Multi-class and Multi-sibling discounts do not apply to summer camps.
No Classes Held: July 1st -July 5th (Break for July 4th Week)
Individual music lessons and group studio classes are year-round and continue through the summer. Students are welcome to join our studio classes at anytime. Call us to find a class that best fits your family!
SCROLL DOWN TO EXPLORE ALL OPTIONS.
AWARD-WINNING DRUMS ALIVE CAmp AGES 5-9
One 45 minute class per week
Students will participate in a 45 minute class weekly for ages 5-9. The best way to move your body is with music! This multi-level, award winning, and researched based program guides students through a program of drumming, movement, and creative exploration. Students learn how to get their heart rates up with a combination of exercise, brain development, crossing midline activities, and reading rhythms. Students drum on buckets and balls, run music relays, and dance to new rhythms.
SING A LONG CAMP AGES 5-9
One 30 minute class per week
Students will participate in a 30 minute class weekly for ages 5-9. Children receive group instruction in vocal technique for healthy singing, strengthen literacy and language skills, and will have the opportunity to learn and perform music both as a soloist and in an ensemble! Students will gain confidence in their vocal abilities to help them succeed in all of their musical goals. This class is geared toward helping young vocalists to prepare for vocal auditions and furthering their skills in singing.
Teen Vocal Camp Ages 10 AND UP
One 60 minute class per week
Teen Vocal Camp is a group singing class for beginning to intermediate singers who are looking to expand their vocal performance skills for the stage. Students learn to develop their vocal techniques by learning how to manage breath support, techniques for improving pitch accuracy, and work on pitch independence and harmony. Students memorize at least two songs and perform them at the end of the course for their family and friends.
Aloha Ukulele Camps Ages (6-8) & (9 and up)
One 45 minute class per week
Summer is the perfect opportunity to learn how to play ukulele in a fun educational environment! All ukulele classes combine both ukulele and singing together where students learn about the native Hawaiian instrument and gain a solid foundation in technique. This class is focused in ukulele as well as, how to read music, work on rhythm technique, strumming, and performing as an ensemble.
Students will need to purchase a ukulele for this class. Please wait for the first class to get more information on what brand and type of ukulele to get.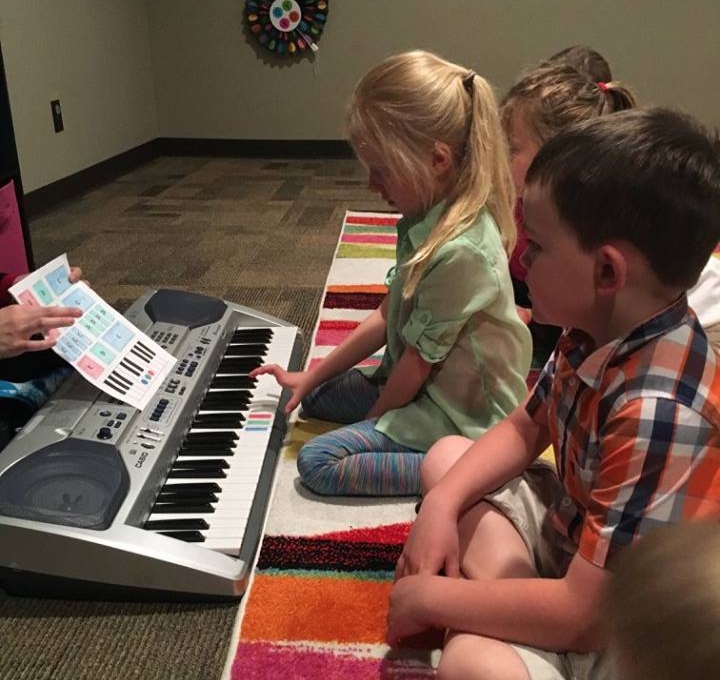 Super Hero Keys CAmp Ages 4.5-9
One 45 minute class per week
Calling all super heroes, join us for this adventurous camp where students will learn all about the piano, make their own super hero song, and meet new friends!
Jump Start Orchestra, Band, & Drumline AGES 9 AND UP
One 45 minute class per week
Learn how to play a new instrument. Summer is the perfect opportunity for students to learn a new instrument in a fun social and educational environment! This is a great way for beginner level students to get a head start on their instrument or try out a new instrument.
Band instruments include: flute, clarinet, saxophone, trumpet, or trombone
Orchestra instruments include: violin, viola, or cello
Drumline instruments include: snare, tenors, bass drums, and cymbals
Instrument rental is included in this unique summer music camp. When registering please indicate what instrument you will need in the comment section of the registration form online.
Guitar Strum Starters AGes 10 AND up
One 60 minute class per week
Perfect for the beginner guitar student. Students will learn the basics of strumming, fingering, beginning chords, and a some fun tunes to reinforce all of their new skills. After the class is finished students have the option to continue the class or to enroll in individual private lessons.
High quality guitars are included in this unique summer music camp. When registering please indicate if you need a guitar in the comment section of the registration form online.
Chamber Orchestra Ages 13 AND up
Two 120 minute classes bi-weekly
Chamber Orchestra is an auditioned, high level music ensemble. This is an exciting opportunity to make music with friends new and old! This summer the chamber orchestra will have two performances. Students are required to participate in 16 out of the 20 rehearsals in order to perform. Students will be required to pass an audition. Once a student has registered the front desk will call to set up an audition time.